My green graphic design standards
Keeping the planet and all living things in mind.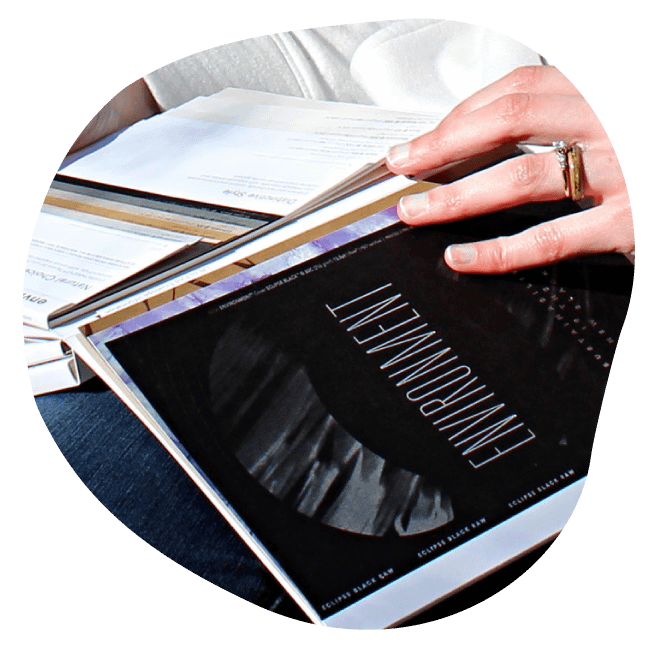 At Blue Raspberry Design, I believe that graphic designers and web designers have accountabililty to our planet. For print, I do not believe that minimizing the carbon footprint of projects falls solely on the printers I partner with. The same goes for web hosting. It is my job to ensure a project is green from start to finish. To do this, these are the green graphic design and green web design standards I practice.
Print design: what kind of paper to use
One of the most important parts of a printed project is the paper its printed on and this is one of the easiest switches to make when focusing on green graphic design. In order to discuss this fully, there are a few different elements we need to be aware of when it comes to paper.
First, it's important to look at the source of the fibers and how they're harvested. Next, look at the creation process and the company involved. Dive into the company's energy usage, certifications, and if they've received any fines for damaging natural places.
If not recycled, ethical forestry is a must because of the detrimental nature of harvesting trees. If forestry is not conscious of the environment, it disrupts habitats, damages soil, and more. However, even with ethical forestry, removing trees damages the environment. Trees naturally absorb carbon. So, by removing them for paper, it has long-term effects on our planet. The good news is, there are recycled and tree-free paper options. This is why I primarily recommend and use Neenah Paper.
Eco-friendly paper: recycled & tree-free
Neenah Paper reduces its carbon footprint by responsibly sourcing its paper fiber and manufacturing its paper with 100% renewable energy. In addition, they process their papers without chlorine and offer a wide variety of recycled and tree-free papers. Because of these practices, I feel confident in my decision to promote their papers.
Outside of Neenah's paper creation, they improved their transportation process to make it greener. This is done through their EPA SmartWay program membership. And, a Neenah Paper distribution center is located in Minneapolis. Because of the close location, the carbon emitted in transport is still pretty small as it makes its way to the Eau Claire area, where I and a good chunk of my clients are located, minimal.
Even with these resources, choosing paper blindly can be a scary process. But, there is a solution! Neenah Paper offers swatch books to see their paper in person. I have multiple available to show clients paper recommendations.
And, as an extra bonus, Neenah Paper recently released an Adobe plug-in for Illustrator! So, I can test designs digitally on the paper stocks without ever needing to print. (Pssst…designers reading this, it's free!)
Toxic design elements: what to avoid
Moving on from paper, design elements are another important consideration, many of which aren't exactly eco-friendly. For example, using metallic foil as a design accent. These can contain heavy metals that aren't able to be recycled and they can even pollute and contaminate soil and groundwater. While they do look nice, we need to be conscious of our environmental impact and look at design through its entire lifespan. For that reason, Blue Raspberry Design will not work with any of the following:
Metallic foil: for reasons stated above.
Soft-touch finishes: the process for this finish includes coating a layer of plastic onto the paper. The plastic addition renders the material to be non-recyclable and turns the design into a single-use plastic.
UV spot coatings: these coatings and others give a glossy or waterproof coating and leave some non-recyclable substances on the paper. The shininess has to come from somewhere and, in many cases, it's a plastic coating.
Anything non-recyclable: there are a lot of options out there, and everything comes down to one aspect. If something cannot be recycled or composted, I will not design it. Looking at the afterlife of a design is just as important as looking at its source. It's not hard to create an eco-friendly design, and, as the climate crisis persists, we must all do our part in lessening our carbon footprints.
Green design elements: eco-friendly made luxurious
While those are services I will not do, there are still plenty of ways to make an impact while abiding by green graphic design standards! So, if you are truly looking for that wow factor, consider one of the below:
Letterpress: beautiful, impactful, and artsy, letterpress adds a tactile feel while emphasizing a part of the design. Looks phenomenal on cotton paper!
Embossing: a raised mark is stamped onto the paper and adds a subtle, luxurious touch to the design. This works well for logos and other bold elements.
Debossing: the opposite of embossing – an indented mark is stamped onto the paper. This looks great with patterns and subtle elements.
Green website hosts: powered by renewable energy
Green design doesn't stop at print. I specialize in green web design as well. All websites I design are made to be low impact to minimize their own carbon footprints. I also make all of my websites accessible to those with disabilities and lower internet connection speeds.
I also host my website through GreenGeeks. They boast that their hosting is 300% green. What does that mean? First, they power their servers with renewable energy where possible. But, they don't stop there. GreenGeeks partners with the Bonneville Environmental Foundation (BEF) to determine their yearly energy consumption and carbon footprint. From there, BEF purchases RECs, or Recognized Environmental Condition, 3 times the amount of energy that GreenGeeks consumes.
*Please note that, since writing this, I have discovered GreenGeeks is not the best renewable energy host out there. They do not run on 100% renewable energy, they draw power from the grid. Sometimes it's renewable, other times it's not. However, they are still who I use due to my current subscription still being active, but I am planning on changing to a 100% renewable energy server in the future. Possibly, I will be switching to Kualo.
Checking site code: efficiency lowers carbon
The second part of making websites eco-friendly is through efficient development. Hand-coding creates smaller and more streamlined files and is the most efficient option when it comes to code. Conversely, template building sites contain a lot of bloatware in their templates because they need to be made to fit so many situations. This causes not only more energy usage, but longer load times. But, hand-coding is not an ideal situation for everyone, so I prioritize user and client over efficiency.
Template builders offer quick and effective ways for updating and maintaining a site. I offer WordPress, Squarespace, and Shopify sites. WordPress is the greenest as it's the easiest to keep efficient, but Squarespace and Shopify are more user-friendly. Sustainability isn't just about the planet, it's gotta be sustainable for you, too!
You don't have to take my word for any of these statements about the web. You can check out a website's impact for yourself! Use the Website Carbon Calculator to test your site, my site, or any other site you'd like. The calculator gives you detailed information on how clean the website is compared to others tested, how much CO2 is produced per page visit and if the site is hosted on a server that uses renewable energy. They also provide a badge you can add to your pages so you can let your web visitors know exactly how green your site is.
Looking for more on green web design? Check out my "What is a Green Web Designer?" blog post!
In conclusion…
Green graphic design and green web design are all about being conscious of your environmental impact. Their definitions constantly grow and change, which is a great thing! Because of this, designers grow and improve in their environmental commitment as new practices are developed.
So, what can you do right now? Switch over to recycled paper for your next project. Consider how important foils and spot coatings are to a design or if you can go without. Decide to move your website to a renewable energy server. And, most importantly, be open to new ideas and research more sustainable design practices.
Blue Raspberry's full, detailed sustainable policies will be coming very soon on a new page of their own!
Get these tasty reads straight to your inbox
I promise I won't ever serve you spam. Only sweet treats and ooey-design-goodness!