The sweet 'n' sour stuff
Non-negotiable standards to turn your tongue blue.
Or maybe your tongue's green or yellow or red. Point is – clear standards are important. Because what's the use in having cream 'o the crop branding if the planet or the lovely folks living on her have to suffer for it?
You can be good to the earth and her people – and you can do it in style.
Print & packaging design
That's good for Mama Earth & her humans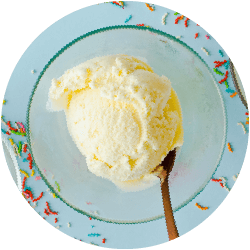 Create less
Wanna easier way to make your printed materials more eco-friendly? Print less! Together, we'll figure out the lowest number of printed items you need. Less is more, my friend!
Planet-friendly paper
All paper used for printed materials must be 100% post-consumer recycled or otherwise sustainable materials such as cotton, hemp, bamboo, or straw. Mmmmm, tasty!
Avoid harmful finishes
Metallic foils, UV spot coatings, and soft touch finishes can be nice, but they render paper non-recyclable. Nope! These won't be used.
Consider its lifecycle
After your biz card or packaging has served up its final crumb of deliciousness, it'll – hopefully! – end up in the recycling bin. I'll help make sure your print materials are recyclable and avoid the land fill. 'Coz that place really stinks.
Use sustainable inks
Printers that use plant-based inks or inks with low VOC (volatile organic compounds) help keep air pollution and toxin use to a minimum. Yippee!
Support local + ethical
Prioritizing local (to you) printers to keep money in your local economy & your carbon footprint smaller is what it's all about. Printing companies that support unions and treat their workers well are priority numero uno. 
Digital design
Light on carbon, loaded with flavor
Renewable energy
When possible, websites will be hosted on shared servers that use renewable energy. Green web hosts help lower your business's and your website's carbon output. You can almost hear Mama Earth high-fiving you!
Optimized assets
All the flavor, minus the bloat. Cutting out everything you don't need creates a website with a small total file size and carbon output. And what's delicious 'bout this? Lower load times, less bounces, and better SEO. Nifty, huh?
Accessible design
Websites are accessed by humans –  so let's build your site with them in mind. This includes considering people with disabilities, impairments, and lower internet connection speeds. So everyone can enjoy your juicy online fruit!
Conscious Policies
The nitty-gritty details that make my people- and planet-first recipe ethically delicious.
Intentions & Outlook
01 • Blue Raspberry Design acknowledges the climate crisis is real and caused by humans.
Design can add to our collective pollution problem and the crisis in general. All policies are intended to lessen our carbon footprints while being kinder to the planet.
02 • Blue Raspberry Design acknowledges the existence of environmental racism.
My aim is to be intersectional in all aspects of business and activism. As a business owner and as a human being, I understand that my education – my learning and unlearning – will never be complete.
03 • As Founder of Blue Raspberry Design, a white woman in the business space, and as a human existing in the world, I recognize and acknowledge I hold many privileges.
It is always my intention to use my privilege for the benefit of all people and the planet, however and whenever I can.
04 • Blue Raspberry Design acknowledges that it exists and operates on the traditional territory of the Menominee Tribe of Wisconsin.
05 • Blue Raspberry Design acknowledges that digital is not always greener.
Technology exploits our planet through mining, manufacturing, and appalling worker conditions.
06 • Blue Raspberry Design acknowledges the current state of the business world and rejects "hustle culture".
I believe this approach to business is unsustainable, in every sense. It is both harmful to the planet and our collective mental and physical health.
07 • Blue Raspberry Design acknowledges the capitalist system under which this country operates is harmful to the planet, people, and the overall well-being of life.
Blue Raspberry Design rejects the status quo and advocates for a different way of living.
08 • Blue Raspberry Design will not support and actively condemns:
gambling promotion, acts and threats of violence, racism, bigotry, sexism, fascism, white supremacy, homophobia, greenwashing campaigns, promotion of resource extraction (including but not limited to oil, fracking, natural gas, mining, and forestry), anti-union rhetoric, and unethical business practices (including but not limited to child or slave labor).
Sustainable Design
01 • 100% post-consumer recycled paper will be the preferable choice for all printed projects.
When not available, the highest percentage of post-consumer recycled content will be used in its place. Tree-free paper such as cotton, straw, and hemp may also be used.
02 • Plant-based inks will be preferred over traditional petroleum-based inks when available locally.
All inks and coatings used will have low or zero VOC (volatile organic compounds) emissions to minimize air pollution.
03 • Plastic coatings such as soft-touch, UV-spot, and laminate will not be used for aesthetic purposes.
These render a paper non-recyclable and turn a piece into a single-use plastic that will break down into microplastics in our environment. Laminate will be used when it is crucial in extending the life of a printed item.
04 • Metallic foils will not be used for aesthetic purposes.
These foils render paper non-recyclable and leach toxins into groundwater when they break down in landfill.
05 • A printed piece's lifecycle will be considered
from material extraction all the way through to the end of its life to ensure its harm to the environment is minimized as much as possible.
06 • Plastic in packaging will only be used when a moisture barrier is needed.
and no other material, such as glass or aluminum, is a possibility.
07 • Print runs will only be as many as are needed.
The best way to reduce your carbon footprint is to create less.
08 • When possible, websites will be hosted on a sustainable web server,
either one that runs on renewable energy or one that offsets its carbon appropriately. When not possible, Blue Raspberry Design will provide alternatives for how to offset a website's carbon footprint.
09 • Regardless of website host, all website assets will be optimized to lower the site's carbon footprint as much as possible.
People-First Approach
01 • All designs will be made accessible to those with disabilities.
This includes but is not limited to: making colors accessible and high contrast, ensuring websites can be read by screen readers, accounting for those with mobility impairments by making websites navigable by keyboard, and using legible typefaces.
02 • Brand concepts will prioritize diversity and inclusivity.
Photos will show diversity in race, gender, ethnicities, culture, abilities, economic status, and geographic locations.
03 • Economic status and geographic locations will be accounted for in website design.
Those in rural areas have less access to high-speed internet due to the lack of infrastructure. Some living in urban areas also suffer from this lack of access due to digital poverty. All websites will be made as efficiently as possible so anyone can access the information.
04 • Language used in all designs will be inclusive, inoffensive, and put people first.
05 • Educational resources created by Blue Raspberry Design will be accessibly priced.
Affordability will be taken into consideration with both the final price tag and in having no penalization for using the payment plan. Meaning – there will be no discount for those able to pay for education in full up front. Dontcha think we're all better together when we lift each other up?
06 • All services, concepts, and designs will be led with compassion.
With compassion, comes respect, kindness, and a brighter world for all people.
Phew! Thanks for digesting all that.